What is MotoVolee.com?
MotoVolee.com is a portal that allows:
Victims of theft to post an alert on the site (with a maximum of details)
Subscribers on the site, subscribers on social networks, and all those with whom the alert will be shared to be informed... and to pay attention!
All this... for free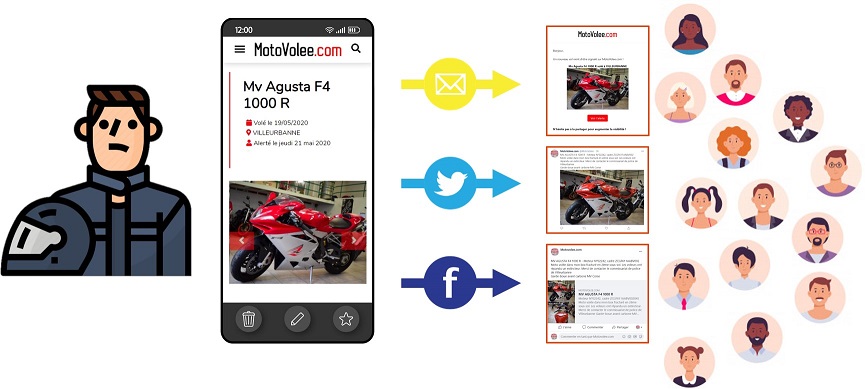 The secret is to share alerts! The more we share, the more visible the alerts are, the more likely the motocycle is spotted. It's simple in fact.
Is it really free?
Yes, totally free. You're welcome.
If you wish to support the site or participate in the hosting, it is possible here.
But I promise, nothing mandatory! (but still, it helps and it's nice).
Where does it come from?
A bit of history...
It's in 2012 that I get my Kawasaki ER6-n stolen, in my underground parking lot in France. Moment of loneliness, helmet in hand in front of my empty parking lot... then of course, complaint at the local police station.
But then what? Let's be honest, we all know that the police did not deploy all its staff to search the city. It's up to me to pay attention, but alone, isn't it a waste of time?
This is where I feel the need to share information as soon as possible! To everyone. If you see my motorcycle, let me know !!! But apart from Facebook and praying for my post to spread a bit, no solutions really.
And if there was a solution to report his stolen motorcycle, that would immediately alert as many people as possible... Go to my keyboard!
And in 2013 the first version of MotoVolee.com is released.

Release of MotoVolee.com

January 7, 2013

First version of the site, which automatically published alerts on Facebook and... Google+

Article on the French magazine Moto-revue

January 23, 2014

The first articles appear in the press and give a boost to the site. They are welcome since the very functioning of the site depends on the size of its community! Moto Revue publishes a first article on MotoVolee.com in its monthly magazine.

The press talks about MotoVolee.com

March 2014

Other articles appear and help the site to grow!

Version 2 of MotoVolee.com

January 9, 2016

For its 3 years and because the vast majority of the site's users are on smartphones, the site has been redesigned.
It then alerted more than 500 stolen motorcycles, and made it possible to find more and more of them!

Version 3 of MotoVolee.com

January 6, 2021

The site is redeveloped from scratch and given a new look. It can now be used in different countries.
Each alert is now distributed to several thousand users.